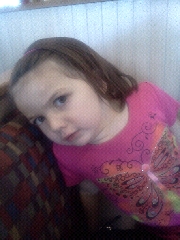 I was so ready for a break from Skylynn at the point I left Utah to head to Washington DC for the Autism Law Summit. She has been being really difficult lately probably due to us moving, her starting school again, and the fact that she has somewhere around 10 hours of school and therapy Mon-Thur and 5-6 hours on Friday. Pretty intense!
This break from Skylynn has given me a chance to really reflect on how far she has come, who she is, how autism affects her, how difficult all of this is on her, and how I can be a better mom to her - and its wonderful.
My sweet Skylynn has come so far. As so many autism parents of younger children, I'm always worried that I'm going to miss this important window of time while she is younger. I worry that if I don't cram every evidence based therapy in right now - as intense as possible - than Skylynn's future will forever be devastated. And although it is so important for me to think about her future and work my ass off to give her the intense therapy that will change her life. It is so one sided to just think about her future. What about her present?
What am I doing now to make her life enjoyable? What am I doing right now to continually build our relationship? What am I doing that helps us grow together and continually remember that more than the fact that we are mother and daughter and we love each other, we also really like each other and enjoy each others company?
Well I can tell you the answer to that. Not enough. When was the last time I played with play dough with her? Too long ago. When was the last time I lined up colored balls, or played with "sticks", with her? Too long ago. It's like I felt that because we are working so hard to have therapist do these things with her therapeutically, I don't need to. But thats so not true.
Maybe some of the reason I am having such a hard time with Skylynn right now is because I am not spending the time I need to with her. I'm forgetting how wonderful she is. I'm not looking for those great moments when we can cuddle and tickle and play.
Skylynn's future is of great importance. I spend so much time worrying about it and figuring out how I can get the best therapies to help her have the best future she can. But in all of that I am neglecting the present. When I get home I hope to find some balance between the two. The future is important - but the present is as well. Time to stop sacrificing one for the other and find some balance.
"The clock is running. Make the most of today. Time waits for no man. Yesterday is history. Tomorrow is a mystery. Today is a gift. That's why it is called the present." - Alice Morse Earle.